Just finished making my own anchor chart stand to use in the library! Yay! I do not have a lot of free wall space in the library. So, I wanted to find a way to quickly access my anchor charts for lessons and activities, and display them during lessons and activities!
I love this stand and the cool thing is that it was very easy to make. Even better, the cost was only about $10!  A ton cheaper than buying a stand. What teacher doesn't get pumped up about saving money!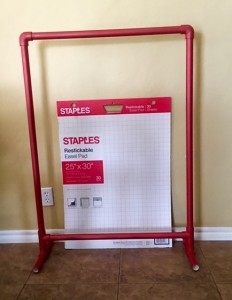 All I needed to purchase was: 2-pieces of PV pipe (1/2″), 2-elbow connectors, 4-T-connectors. The frame was made with 2 30″ & 2-40″ pieces of PVC pipe, plus the elbows and 2 T-connectors. I used 2-2″ pieces of PVC pipe at the bottom of the T-connectors and added 4-6″ pieces of PVC pipe to create the stand for the frame. Put it all together & wah-lah…it was done! Finishing touch was to paint the stand! The only thing I need to add is end caps for the base.